SPIRIT OF THE SUWANNEE SUSTAINABILITY
At Spirit of the Suwannee, we are committed to working locally to improve the social, economical, and environmental well being of our community. We are continuously improving processes that make us more sustainable and developing partnerships with businesses, nonprofits and our visitors.
The Green Team at Spirit of the Suwannee
The Green Team at Spirit of the Suwannee is a group of dedicated volunteers and staff who work together to create sustainable events. Our mission is to reduce waste, divert recyclable and compostable materials from the landfill, create educational opportunities and build a culture of sustainability. Our goal is to one day host zero-waste events and establish the Park as a leader in sustainability practices among venues in the Southeast.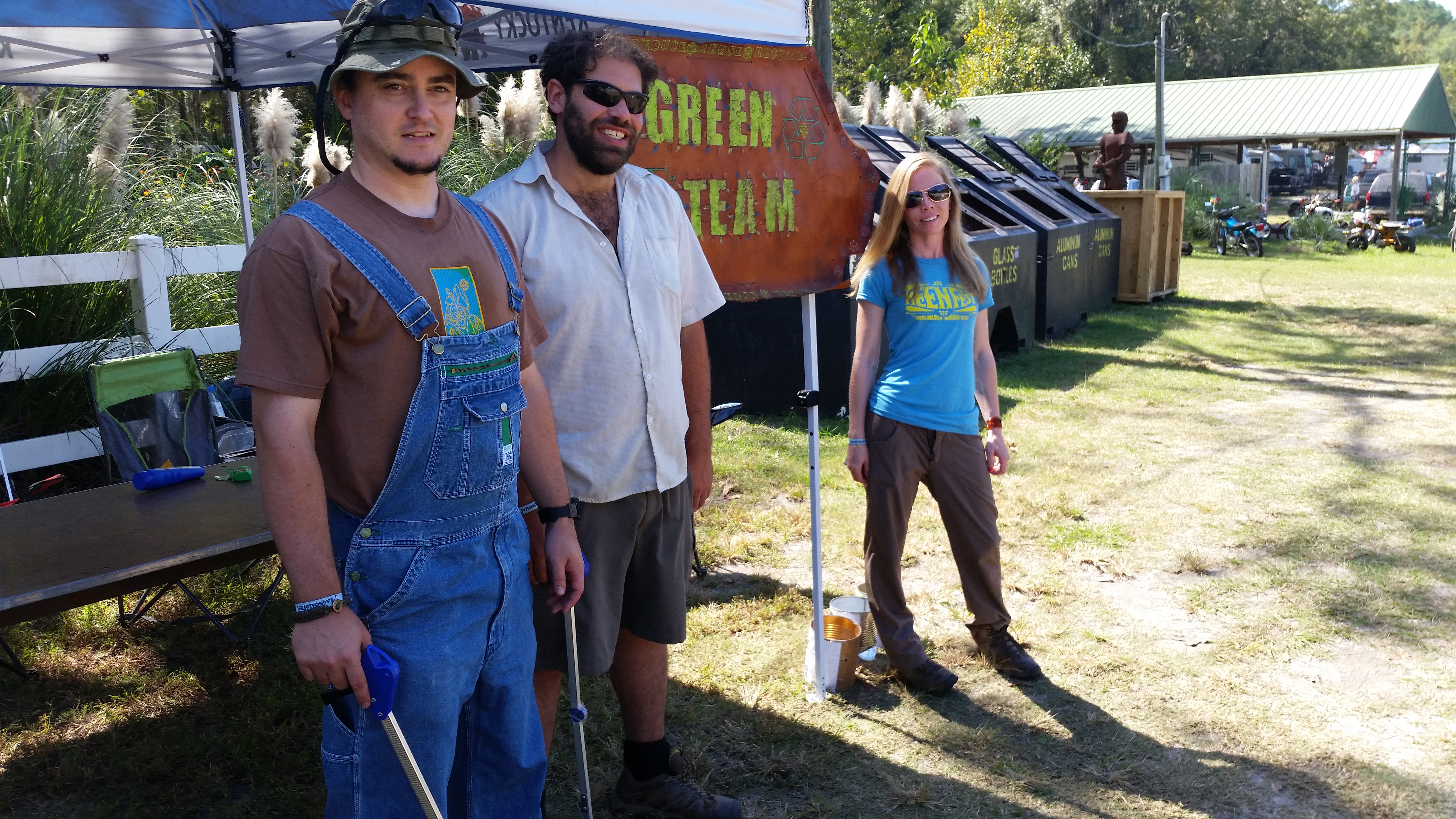 EDUCATION
Permaculture Workshops
Spirit of the Suwannee hosts workshops for guests to experience hands-on learning in permaculture gardening principles. We work with local partners to provide an understanding of working with natural systems and grow your own food. Past workshops have covered food forests, huglekultur, soil building, mycoremediation, vertical gardening, food sovereignty, vermiculture and more.
High School Volunteer Program
We work with local high schools to engage youth in the Green Team's clean-up efforts and educational initiatives. Our goal is to bring awareness to the next generation about our current environmental issues and solutions for for the future. A big thanks to Suwannee County High School Environmental Club for their continued partnership!
Waste Reduction
Reusable containers are truly the most environmentally friendly way to reduce waste. Since one reusable cup of water bottle can replace hundreds of single-use containers in its lifetime, Spirit of the Suwannee encourages visitors to bring a refillable drink container. Our resuable cup program offers festival patrons a collectable, stainless steel pint to reuse at the festival or the coffee shop.  


Waste Diversion
The Green Team collects recyclable and compostable materials during events at Spirit of the Suwannee in order to divert them from the landfill. We encourage our visitors to collect recycling in their campsites when they stay and provide recycling bins at each entrance to the venue for plastic bottles, glass bottles, and aluminium cans. We also recycle cardboard and ice bags.
In 2017, we diverted approximately 794 cubic yards of recycling from the landfill; about 39 dumpsters of hand-sorted materials. The 2016 total was 646 cubic yards.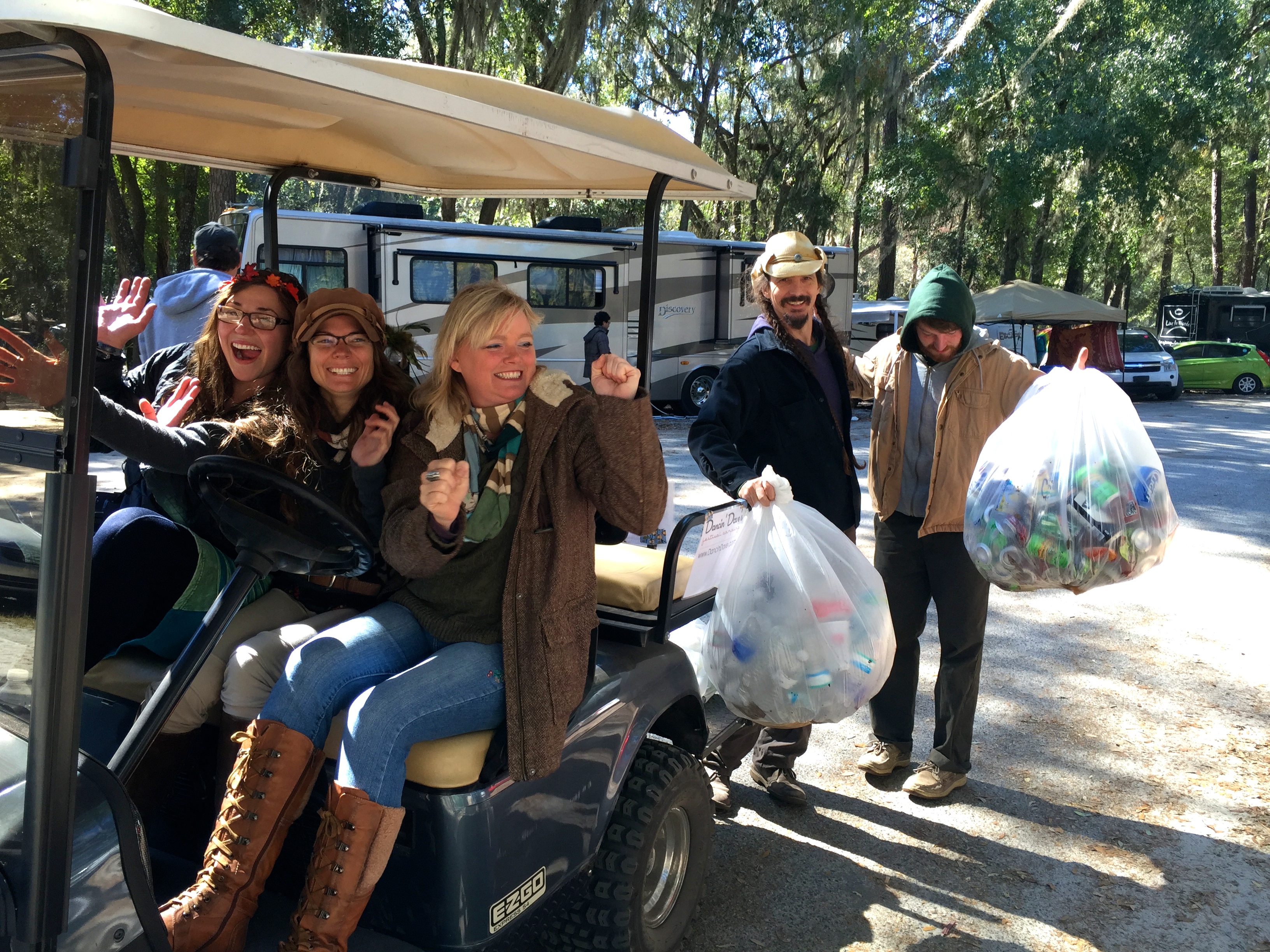 Recycle Rewards
We believe that through game play and the chance to win prizes, we can engage visitors to participate in our sustainability efforts. Through our Recycle Rewards booth, we have been able to reach more festival patrons and divert more recycling from the landfill than ever before. The booth has carnival-style games and gives away prizes like festival tickets and VIP passes for winners who bring their camp's recycling.
Our composting program collects food scraps from vendors during events. These are taken to a local farmer to be composted and the nutrient rich soil returned to the earth. Composting is easy! It saves valuable space in the landfill and does what nature intended for all organic material. Want to learn about composting at home? Check out https://www.epa.gov/recycle/composting-home.

How YOU can get involved at Spirit of the Suwannee:
Volunteer with the Green Team at your favorite musical gathering
Become a Green Camp Ambassador and create a sustainable campsite for your group. Keep all trash and recyclables separated, plan for washing your dishes and bring reusable wares, and leave no trace when your group departs. This requires planning ahead, dispose of all waste properly, know the rules about campfires, and leave nothing on the ground when you pack up. More on Eco-friendly Camping; https://www.reserveamerica.com/outdoors/eco-friendly-camping-how-to-leave-no-trace.htm
Always use appropriate receptacles for cigarette butts, trash and recycling. Don't throw butts on the ground! They are not biodegradable and leave an unsightly mess. Pocket ashtrays are a convenient way to keep butts with you until you reach a trash can; check out https://www.amazon.com/Kiipr-Pouch-Pocket-Ashtray-3-pack/dp/B00DP7GSSI
Reduce your carbon footprint whenever you visit Spirit of the Suwannee. Carpooling is a great way to reduce the amount of carbon produced by your travel, or purchase carbon credits to offset.